Managing Field Service & Safety Processes "End-to-End"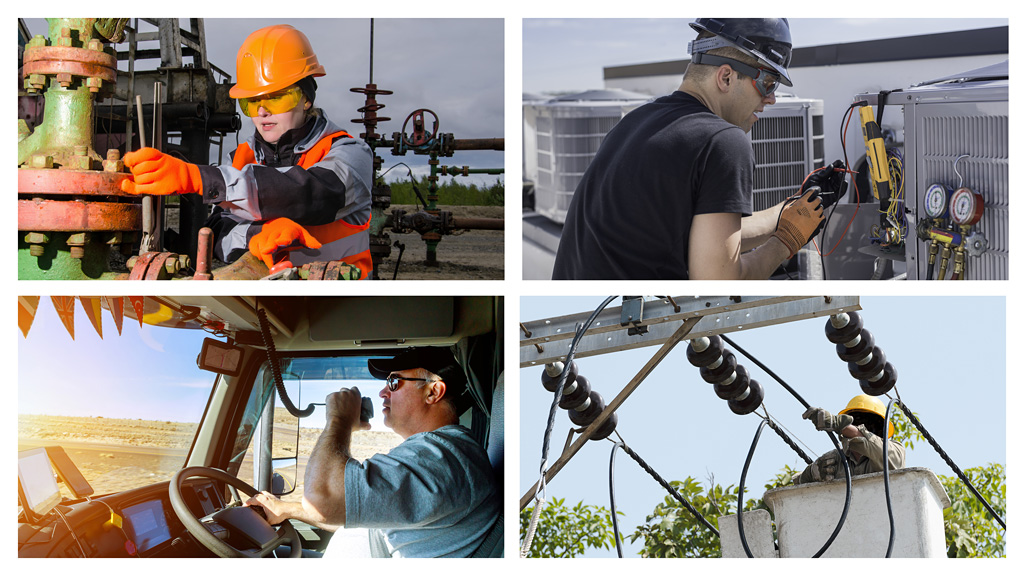 Looking for a way to replace paper forms and spreadsheets?
Looking for ONE solution for Field Service & Safety Processes?
You've found it. Cosmos Forms.
As a Field Service Manager you are focused on customer satisfaction, operational efficiency and safety for your field workers.
Processes based on paper, spreadsheets or homegrown legacy systems don't help to make your job any easier.  You need ONE solution to address your unique challenges.
Whether you are in Commercial HVAC, Utilities, Oilfield Services, Trucking or other industry, you need Cosmos Forms!
The table below illustrates how Cosmos Forms can help.
HOW COSMOS FORMS CAN HELP

Poor work order management leads to reduced productivity and potentially affects customer satisfaction.

Work orders are integrated with equipment, supplies worker skills/competency to ensure the right parts, tools and resources are allocated to each job.

Information delays about completed jobs /work performed leads to delayed invoicing thus impacts cashflow.

Information about work done is available as soon as the job is complete. Your field worker completes the mobile form and your office staff can immediately access it.

Paper, spreadsheet or legacy system based inspections are incomplete, illegible or missing altogether meaning no one is really sure what passed or needs to be completed.

Inspections details are captured in the field as the inspection is completed and sent to Cosmos Service where complete history of equipment inspections, deficiencies and service is mantained.

Site and Equipment Deficiencies

Inability to easily track site and equipment deficiencies, what service was completed, and what is still outstanding.

All deficiencies and service completed are captured directly in the work order or other inspection form. Reporting allows you to easily see what needs to be done, who is to complete the services, and when it is complete. Technicians can easily review deficiencies with customers and obtain approvals for service.

Manual communications between field workers and office workers means information sharing is delayed increasing time to respond to customers.

Automatically send emails with attached reports to office workers, customers, partners, contractors or other employees upon form completion or a specified step in process. No communication delays.

No ability to generate reports for customers such as services provided, service status, service history and deficiencies

Generate reports of service status, next service dates, service history, deficiencies, services provided. By Site, By Equipment, By Technician, By Date. Easily create customized reporting.

No ability to schedule technicians or provide technicians with procurement information for each work order.




Schedule technicans easily via Cosmos Service. The technician is immediately notified. Parts/inventory for current work order are immediately available to techician on mobile form.

Rather than having Safety integrated with other field processes, it is completely separate.

Cosmos Forms adapts to any process. Safety forms have the same user interface, reporting and communications as the Field Services solution. No need to teach yet another solution to field teams.
See a Hazard Assessment Form in the video below:
See an overview of Cosmos Insights in the video below: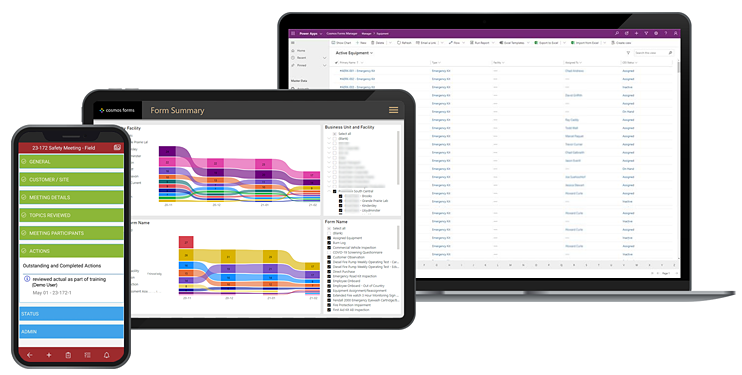 "Prior to using Cosmos Forms when we did monthly Employee Safety Performance meetings they were kind of useless because the supervisor had no visibility into the employee's efforts around safety. Now with Cosmos Forms and Cosmos Insights the supervisor can call up the individual employee, see all the in-progress and completed safety forms as well as all the assigned actions for that employee, what has been completed, and what actions are overdue. It has made the monthly reviews much more meaningful and impactful for both the supervisor and the employee."
HSE Administrator
"The mandate from our executives was get ROI fast! We have all experienced tech projects that after 18 months are still not being used, let alone providing value.  With Cosmos Forms within 3 days of signing up, we deployed our first 3 digital forms and associated processes to over 100 remote workers. Using Cosmos Insights, we knew a) what forms were being completed b) what forms were not being completed and c) what actions were outstanding."
Lead, Digital Optimization
"Using Cosmos Forms for our unit inspections has made a huge impact on our business. Our paper forms were not consistent across properties or managers, paper forms would get lost and tracking maintenance actions was all but impossible. Cosmos Forms has enabled us to standardize on forms across managers and properties and ensure we capture the required information, including photos and signatures and we can now track when inspections are done."
Regional Property Manager
Field Services & Safety....Better Together
Get started with Cosmos Forms today!