be modern. be mobile.
a unique mobile experience to intelligently manage business processes...device to device, standalone or connected, in the field, plant or office
MEET YOUR NEW MOBILE FORM
Modern, easy and powerful app for your smartphone, tablet or laptop.
Be modern. Be mobile.
Device to Device
Complete forms, assign actions, approve/review forms and actions – route based on your rules and process flow, from device to device, or to and from back-end systems.
High Performance Synch
Say goodbye to synchronization failure and the "sync button". Forms sync automatically in the background as you complete them if you are on a network, or automatically later when you are back in coverage.
Forms, Actions, Workflows
Enter Inspections or other types of forms, and capture corrective actions and immediate actions taken. Automatically assign forms and actions to the responsible individuals and track through to completion.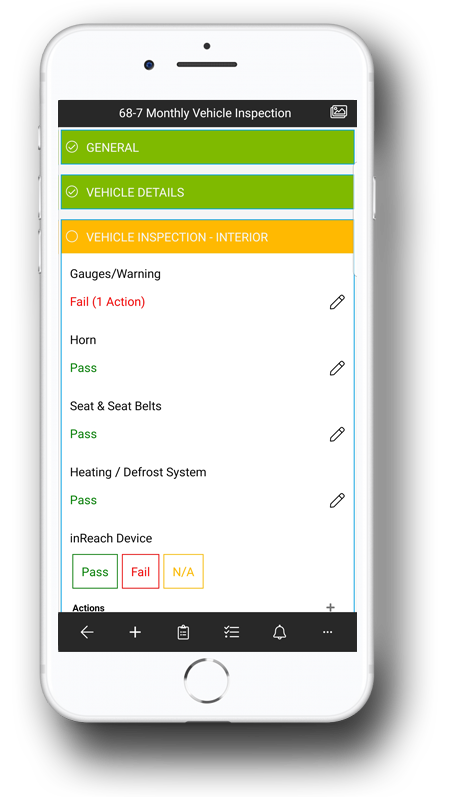 Leverage Mobile
Automatic GPS tracking plus GPS aware location entry precisely record where forms are filled in – enter data by typing or use voice entry – use QR codes or barcodes to start a form, or identify assets/equipment within a form – capture photos and annotate at both the form and action levels.
Automate Communications
Pre-define rules to trigger sending custom formatted emails/texts to alert a supervisor, advise a customer or update a back-end system.
Advanced Features
Advise your users of the changes in a new version of a form – work in progress is not impacted by release of a new version – security roles to control access to forms –develop forms in a "Dev" environment then "Test" and finally "Production".
HOW IS COSMOS FORMS DIFFERENT?

Multiple back-end systems can send or receive data from the Cosmos Forms Cloud Platform. Mobile workers have a consistent and easy-to-use interface, prioritized to their tasks. Forms and actions can flow between devices to speed information flow, approvals, etc. reducing the need to manage multiple interfaces or return to the office to get work done.
Synchronizing data between mobile devices and the cloud happens automatically in the background as soon as you start entering data, if you are connected. If you are working offline, the data will be synchronized automatically when you return to coverage. This approach makes operations intuitive and eliminates the single highest cause of support calls, in our experience.
Smart Forms and Actions designed for intuitive, easy entry are tailored to fit your work processes and routing rules – forms dynamically change as they flow through the various statuses or in response to entered data – common actions can be pre-authored to make entry as simple as a tap – rich workflow automate communications internally and externally – support for Artificial Intelligence designed in with cognitive facial and image recognition ready to go.
Author forms and associated processes quickly and easily with our intuitive Forms Designer. Unlimited forms means you can replace ALL your paper forms. The Mobile Forms user needs almost no training. Install the app and they're off.
any workload, anywhere
10 users or 10,000 users – online or offline – local or global, operations for the field, plant or office.
Use our form to get in touch!
We'll get right back to you.
Give us a call!
We're always happy to meet new people
Phone: +1.403.605.7547